smartBridges Solution for Education
Faced with the ever-challenging responsibility of providing students with the best possible education and to continuously extend their reach to students far and wide, schools, colleges and the universities , schools today must be prepared to employ the latest in advanced technologies.
Working to meet this challenge, schools and universities worldwide are in search of cost-effective ways of bringing advanced learning tools to their campuses. smartBridges makes wireless network solutions which are designed to help schools meet this challenge by dramatically lowering the cost of providing high-speed intranet and Internet access.
smartBridges wireless LAN/ WAN solutions can help students and faculty alike can access their local network and the Internet, print documents, send and receive e-mail as well as use the server from virtually any campus location, including the classroom, the library, cafeteria, auditorium, office, teacher's lounge, athletic facilities –- even the parking lot -– without wires.
Why Wireless?
* Increased Productivity
Extended access to educational facilities gives students and professors more ways to learn and interact and update their knowledge. It also opens up to them whole new worlds of information available quickly on the wireless Internet
* Increased Reach of Knowledge
It is possible for the college or school to extend its reach to students far away and make it possible for professors to participate in remote , virtual classrooms. Alliances can be formed with other institutions to enable quick and better knowledge dissemination
* Lower cost of Investment
As compared to deploying a wired network, smartBridges Wireless Network solution wins hands down, both in terms of time and cost, with a much superior performance.
Which translates into quicker ROI for the investors.
smartBridges airBridge and airPoint PRO series are built on the trademark Long Range TM Radio to ensure higher sensitivity and range.The products employ the Direct Sequence Spread Spectrum technology to cover a wide area under the wireless footprint.
Using these, it is possible to provide high-speed, cost-effective, building-to-building connectivity - quickly and easily bridging multiple buildings on campus, dormitories, district offices as well as multiple schools within a district or network of schools. And because it is wireless, it eliminates the high costs associated with installing traditional hard-wired connectivity.
A typical College/ School campus can get completely connected on smartBridges wireless Portfolio in a matter of a few days. It is possible to completely network the entire campus, providing wireless Internet and LAN facilities to the hostels, to the Professors quarters and to the common facilities on campus such as the Bank, Post Office and Medical Center. Facilities like the library can be made into a hotspot where students can access information easily and increase their productivity.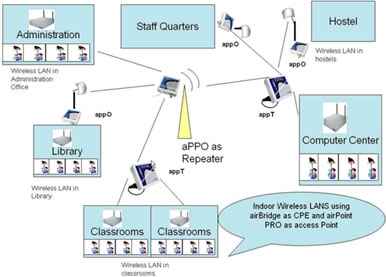 Easy to Deploy
Driverless Plug N play installation makes airBridge series the optimum choice for CPE deployment .With its strong experience in wireless networks, smartBridges ensures a design to support a quick configuration and deployment of the airBridge and the airPoint Series.
Wide variety of products to choose from to fit the needs of the organization
Easy to Monitor!
* Provides management and control of entire Wireless LAN network
* Each and every device belonging to the airBridge and airPoint family on the network can be remotely monitored using the simple NMS.
* Quick to respond to network issues
* Flexibility and mobility features.
Easy to Manage
simpleNMS further scales up the manageability of the network by enabling the mass upgrade and remote management of the remote smartBridges devices. It provides an eye into the network, showing its internal functioning.
* Dramatically lowered cost of upgrade and management
* Removes the need for going to each CPE location for upgrades