smartBridges Solutions for Marinas
Patrons of Marinas and Campsites often access the Internet for a variety of reasons. The very aspect of being able to access the Internet, while relaxing on a yacht or camp holds tremendous appeal for a number of ardent customers. They are often willing to pay more for better facilities.
So, how to win over such patrons, while holding costs to a minimum and enhancing the user experience?
The answer- Go wireless with smartBridges and realize the full benefits of broadband wireless networks!
Flexible, Inexpensive Installation
With broadband wireless connectivity, networks can be quickly, easily and inexpensively modified to meeting change requirements. And broadband wireless networks offer the flexibility to painlessly add or eliminate sites, or secure additional bandwidth.
Reliable, Rugged Solution
The smartBridges solutions are extremely rugged and are proven to work excellently in extremely hostile environments. For Marinas, where it is a necessity to deploy wireless CPE and access points in an outdoor environment, our products provide high availability and reliability. Years of dedicated work have ensured a wide operating temperature range of -40 Deg C to +65 Deg C ( -40F to 149 F), ensuring smooth working under heavy rain or high heat or snow!
Speed and Reach
A wireless link provides throughput rates several times faster than those offered by wire line alternatives. Unlike wire line high-speed circuits that are typically available only in urban centers and made it nearly impossible to be used offshore or in secluded areas like camps, broadband wireless links can be deployed virtually anywhere, urban, suburban, and rural locations alike.
Security and Privacy
smartBridges advanced wireless solutions support WI-FI approved security mechanisms to prevent eavesdropping and unauthorized access to private networks. These higher levels of security make it virtually impossible to intercept and decipher transmissions on private networks.
Fast, Reliable Bandwidth
smartBridges solutions are ideal for the off-shore or remote user because they are fast and reliable and provide the most bandwidth for the investment. SmartBridges devices have the highest proven receive sensitivity, making them ideal for use on marinas and campsites, which may be far away from transmitting locations.
Key considerations to deploying to Broadband Internet Access at Marinas and Campsites
* Quick ROI
* Quick, Easy Deployment
* Mobility of Equipment across users on yachts/campsites
* Manageability

Easy to Deploy, Install and Manage!!
smartBridges helps Facility Owners around the world deploy wireless networks, quickly and efficiently. Our solutions provide them tremendous cost savings, strong customer retention and loyalty, and easy management.
The airBridge series from smartBridges provides the Facilities Managers with an entire suite of customer premise equipment (CPE) to choose from. This gives added flexibility for deployment.
airPoint Series Professional Access Points expand the coverage area of the Marina/ Campsite. Their strong performance and ruggedness makes them an invaluable investment.
In a typical Marina, the airBridge Outdoor deployed on the yachts or the airBridge with an external antenna connect the yachts to the transmitter. The air Point Pro Outdoor acts as an Access Point for these Yachts. Depending on the coverage sought, the marina can be covered as one single Hotspot or divided into sectors, implementing a number of hotspots. These can be integrated at the main Access Point, using a splitter. The Omni Directional Antennae on the Yachts give them mobility while staying connected!

Network Design and Configuration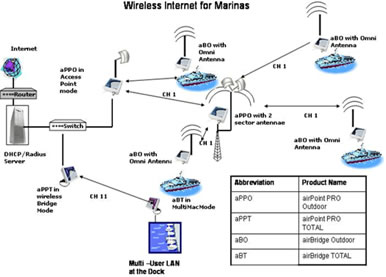 Traditionally, such facilities would stay unconnected due to unavailability of cable or problem faced in running underwater cables etc. The only solution in this case is to go wireless.
The visitors and workers can be provided with Internet access, which in turn enhances efficiencies and wins customer preference. It is important to note that the wireless solution provides the workers with much needed mobility and high speed access to information.
Benefits to Facility Managers
Facilities Managers benefit in three distinct ways by deploying smartBridges Solutions;
Easy to Deploy!
Driverless Plug N play installation makes airBridge series the optimum choice for CPE deployment .With its strong experience in wireless networks, smartBridges ensures a design to support a quick configuration and deployment of the airBridge and the airPoint Series.
simpleDeploy further lowers the deployment cost by enabling mass configuration of the wireless LAN equipment to the network' default settings. This saves cost and time by reducing time on site for deployment and resetting a CPE.
*Less time to implement – Saves Money and wins customers!
*Lowered cost of configuration and deployment
Easy to Monitor!
Each and every device belonging to the airBridge and airPoint family on the network can be remotely monitored using the simple Monitor. All the devices on the Marina/ Campsite can be constantly monitored remotely, providing privacy to the users.
*Quick to respond to network issues
*Better service and increased customer loyalty through better privacy and performance
Easy to Manage
Simple NMS further scales up the manageability of the network by enabling the mass upgrade and remote management of the remote smartBridges devices. It provides an eye into the network, showing its internal functioning.
*Dramatically lowered cost of upgrade and management
*Removes the need for going to each CPE location for upgrades